Bob's Photobooth Bus Spicoli hit the town Saturday night cruiz'n to a couple of places I have not tried.
First stop was for some tasty tacos at CTA (Chicago Taco Authority) at 4219 W. Irving Park, Chicago. https://www.facebook.com/Chicagotacoauthority/. This place has the coolest decor with incredible attention to detail. Check out the mural of CTA train on the wall. They attached an old-style chain across the back door to the wall!
Walked into smiling faces, excellent service and best of all some awesome tacos. Chowed down on the Al Pastor, Steak and Fish Tacos. All excellent. Throw in a mandarin orange soda and all is right with the world. My wife and I give it 5 stars on the Spicoli chart. Our highest rating!
Met the owner, Jose, who saw the bus and loved it. Told me the front looked like an old CTA train car. It does a little! Below are some pics of Jose and his place. It's a newer business so let's support our local entrepreneurs - especially ones dishing out great food.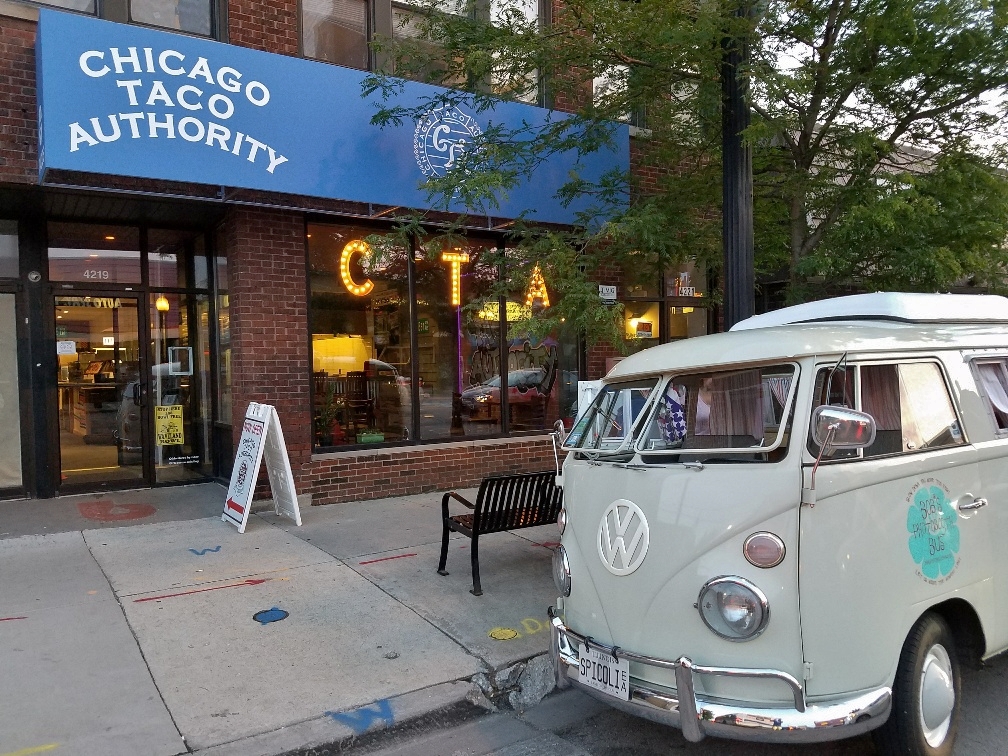 Next stop was across the street at Eris Brewery and Cider House at 4240 W. Irving Park Rd. Chicago, Il. 60641. http://www.erischicago.com/. Enjoyed a few with my wife and then checked out the interior. You have to see it to believe it. The place is beyond what you can imagine. Definitely, no expense spared but better yet done to perfection. We did not eat there but will be back to try out the food. See below pic of Spicoli hanging out by the patio and some interior shots. Well done, Eris!
https://www.facebook.com/Chicagotacoauthority/
http://www.erischicago.com/